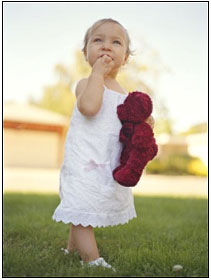 The following is a list of items that are needed when you venture out the back door.
1. Watch your baby at all times. Bugs, rocks, dirt, grass, etc. could all prove to be hazards.
2. Bug spray. If you live in a climate where mosquitoes, ticks, etc are a problem then you will want something to protect your baby. The best products are Deet free and come in gentle formulas. Avon skin-so-soft is one of the best products on the market and is very gentle for young skin. OFF Skintastic family is another good choice.
3. Water. Always have plenty of fresh water and snacks.
4. Sunscreen. Anytime your baby is outdoors they should be protected with an SPF of at least 50.
5. Keep your baby contained. If you have a large yard, you may want to invest in play yard. It will keep baby in one area, and give you a much smaller area to baby proof. Pay special attention once your child starts standing, as they will eventually be able to climb out.
6. Be mindful of plants and insects. Babies love to put things in their mouth, and many items outdoors are poisonous. Make sure to research anything you plant in the garden, as well as anything that pops up in the wild. If you do find something poisonous, uproot it immediately or kill it with a weed killer.
7. Be prepared for stings. Bees, wasps, yellow jackets etc, are all real threats to your baby. If your child gets stung (assuming that they aren't allergic) you can administer a cold compress and some antihistamines.
8. Grilling. Always keep the baby away from the grill and open flame.
Here are the items that you should buy for baby proofing purposes:
Backyard Checklist

Gentle Bug spray

Play yard

Cold compress/antihistamines

Water/Fresh Fruit

Sun Screen SPF 50